San Francisco Veterans Justice Court
The San Francisco Veterans Justice Court (VJC) is a collaborative court that demonstrates a true partnership among community stakeholders and city partners. Veterans returning from the current conflicts and separating from the military are already appearing in San Francisco jails as well as federal and state correctional institutions. The court's objective is to provide substance abuse and mental health treatment, as well as academic, vocational, or skills improvement leading to job placement and retention.
The VJC was launched in April 2013 as a separate calendar in the Community Justice Center to offer a veteran-focused intervention that had been missing from the existing criminal justice system. In January 2015, it was established as a stand-alone collaborative court of the Superior Court of California, County of San Francisco. It was created in partnership with the Veterans Administration, District Attorney's Office, Public Defender's Office, Department of Public Health, Human Services Agency, Adult Probation Department, the San Francisco Bar Association and its defense counsel, San Francisco Sheriff's Department, and various other city agencies and community groups.
Mission
The Veterans Justice Court addresses the specialized needs of veterans facing criminal charges by providing the social service, educational and vocational support they need to lead productive and independent lives.
Image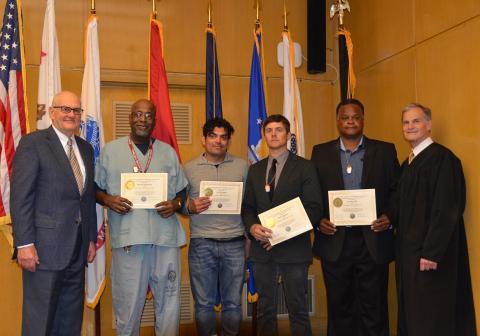 May 27, 2016 Veterans Justice Court Graduation- (photo from left to right) Presiding Judge John K. Stewart, VJC graduate Michael Richardson, VJC graduate Axel Rodriguez, VJC graduate Brian Rafferty, VJC graduate Joe Marrable, and VJC Judge Jeffrey S. Ross.
Goals
The primary goals of the VJC are to:
Reduce recidivism
 Increase public safety
Restore VJC participants to productive lives
The long term goals of the VJC program are to:
Provide VJC participants with life skills and support to reintegrate into civilian society successfully
Connect VJC participants with health and mental health services and other support which they can continue to access after graduation from VJC
Create opportunities for VJC participants to engage in community service
Provide linkages to substance and mental health treatment
Address issues of homelessness and joblessness
Introduce alternatives to criminal thinking and behavior
Image
Veterans Justice Court graduate Joe Marrable stands proudly at the May 27, 2016, VJC graduation held at the Hall of Justice.